SALE SHARKS BATTERS CARDIFF BLUES 41-3
The Anglo Welsh Cup competition recently saw a dominant Sale Sharks side thump over an inexperienced Cardiff Blues team. Sale Sharks, with this victory, now sits atop of the Pool 2.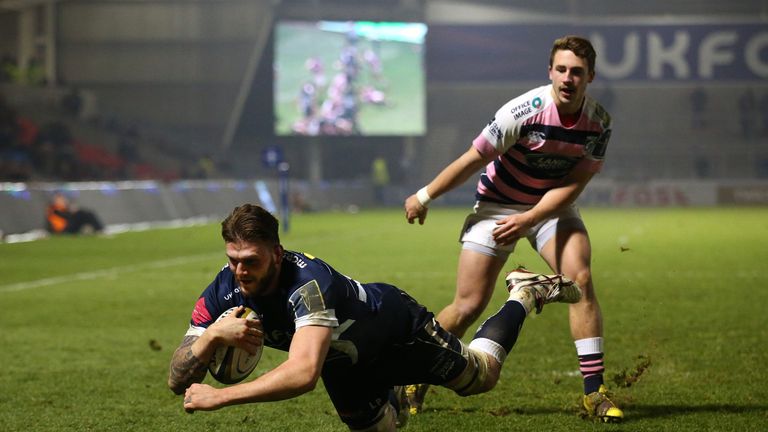 A 14-0 lead was handed to Sharks by Denny Solomon and Jonathan Mills. Fortunately, Cardiff was able to get on the board after a penalty by Jarrod Evans.
At the interval, Laurence Pearce opened the advantage with a score for the Sharks, and put through a second after the break.
James Flynn and Neil Briggs also went over for the Sharks and they were also awarded a penalty. Their victory means Cardiff goes home so far in this competition, with a third successive defeat.
Despite the Sharks going into the contest with a squad who were far more experience, the early exchanges were controlled by the opponents. Cardiff had the opportunity to take the lead through Evans. However, he missed the target narrowly, and they had to pay the price for that.
The Sharks tried playing an up-tempo game but ended up making too many errors. The youthful but inexperience Cardiff side managed to hold the game firm. However, once the hosts were able to find their rhythm, all hell was let loose and the visitors bore the brunt of it all.
The start of the second period saw Cardiff's defence fall apart as the left got broken down by Byron McGuigan. Luckily, the attack was halted, but unfortunately, their inability to stem the oncoming pressure, saw Pearce score a second try.
It became worse for the visitors when two of their players, Seb Davies and Morgan Sienawski were sent to the sin-bin within 30 seconds of each. This was due to a dangerous tackle and a deliberate knock-on.
A convincing win was finally rounded off by Flynn and a penalty try for the Sharks.